4 Best Shooting Bipod in 2022
Choosing a bipod for a rifle can be difficult, especially with so many options available online. One can be used for a variety of purposes, the most prominent of which is long-range target shooting.
Using a bipod for hunting is not always recommended. This is most likely due to the requirement for a more adaptive approach. However, some hunters employ them in static shooting positions, and they can be very effective for varmint hunting.
Finally, it's critical to fit a bipod to specific shooting requirements. It's also an obvious advantage to have for any serious rifleman. This post will take you through a comprehensive list of the top options.
We had included a wide range of alternatives, including AR bipods, tactical bipods, sling mount bipods, and even carbon fiber variants. Let's go over all of these fantastic options now!
BPR Series | 60° Rotatable Pivot Harris Style Bipod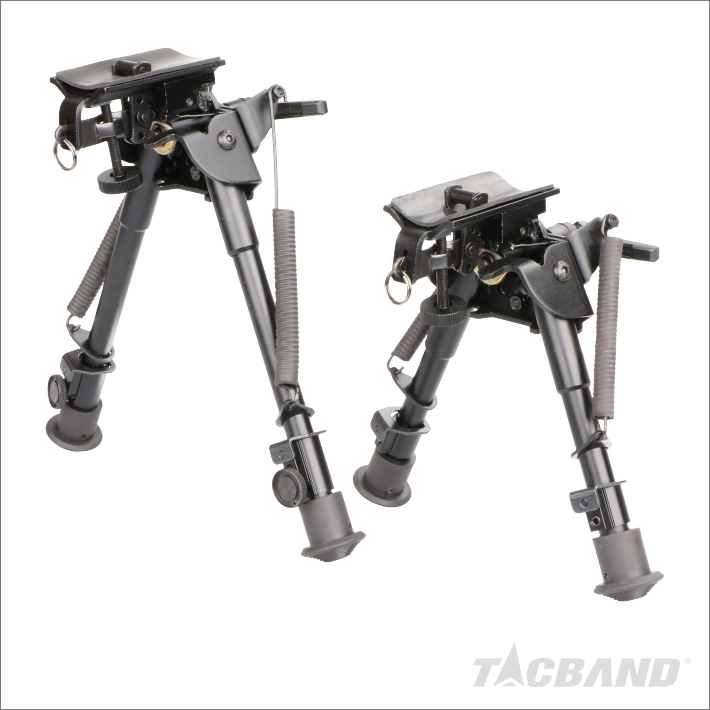 Many experienced shooters like this premium bipod because it is specifically developed for long-range precision.
For shooters in low positions, it provides extra stability. With its desirable features and stability, it is a favorite choice for many serious shooters.
This bipod is extremely sturdy and lightweight, allowing you to take it hunting or shooting with your rifle.
The weight of a bipod is one of the elements to consider because a heavyweight bipod can easily tire you out and may influence your battlefield shooting. This bipod is made of long-lasting aircraft-grade aluminum that provides reliable functioning.
The durability and stability of this bipod allow it to perfectly position heavy guns without sacrificing accuracy.
You can also rest this bipod on rocks, walls, and other surfaces while hunting. This bipod's legs can be readily adjusted in various positions to suit your needs.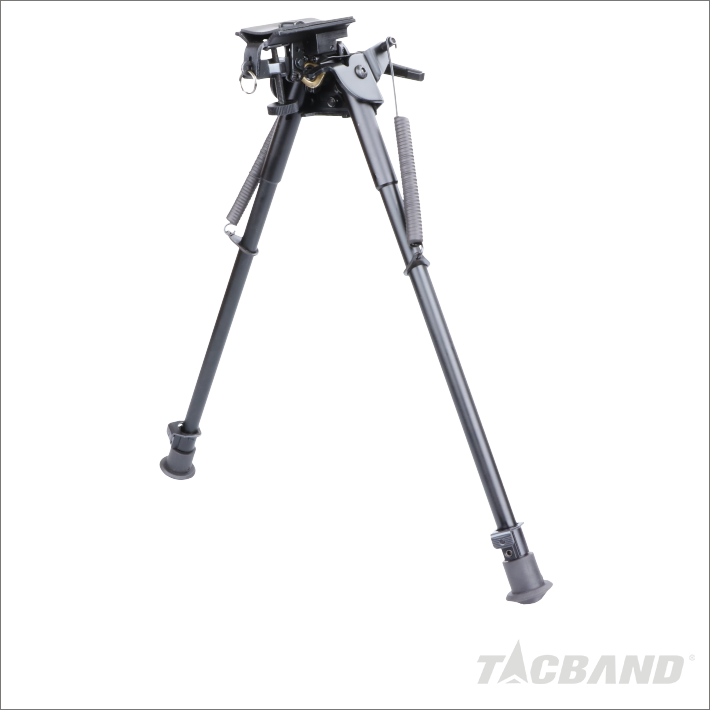 This bipod's panning and canting capabilities make it adaptable to any leg position on rough terrains. You may enhance your accuracy while focusing on targets and making effective shots by making these simple tweaks.
BPP Series | Bipod w/ QD Lever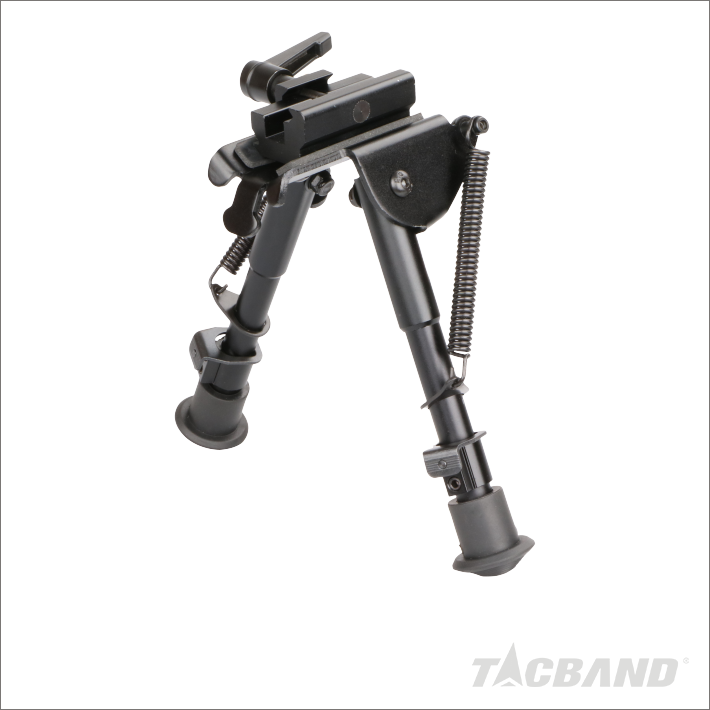 With its outstanding adaptability, this tactical bipod is suitable for hunting, shooting, and military use. The legs of this S-BRM bipod give excellent grip, allowing you to hunt or shoot in difficult terrain.
The tension adjustment and buff spring technology are attached to the base of this bipod to prevent shivering or looseness. It has a simple spring action that quickly ejects the legs for readjustment.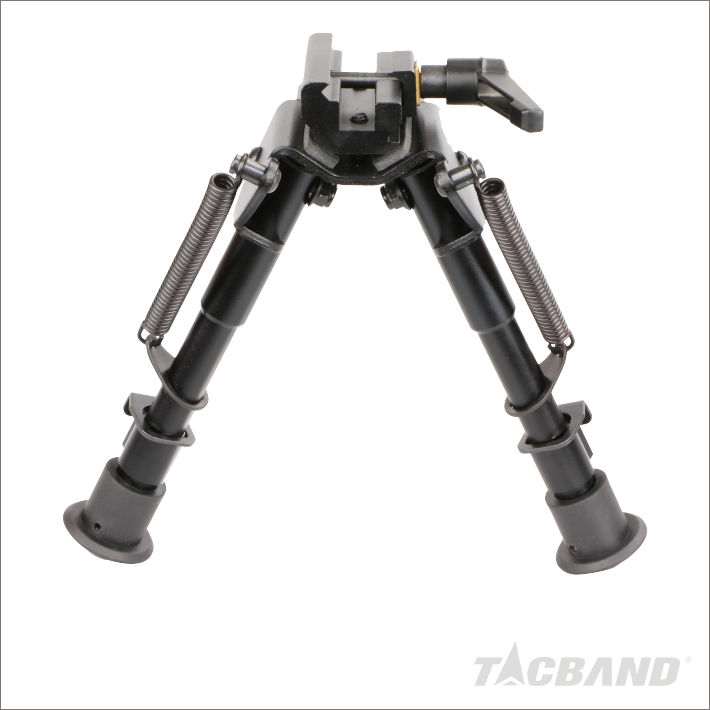 The legs are adjustable in height in 1-inch increments, allowing you to customize them to your shooting range. With a single button press, legs can be fully stretched to the shooting position.
Many hunters and shooters who want to spend more time on the battlefield prefer this tactical bipod because of its small weight. Many experienced shooters appreciate its tough design, which can survive any harsh conditions and assures consistent performance.
BPL Series | 360° Rotatable Pivot Bipod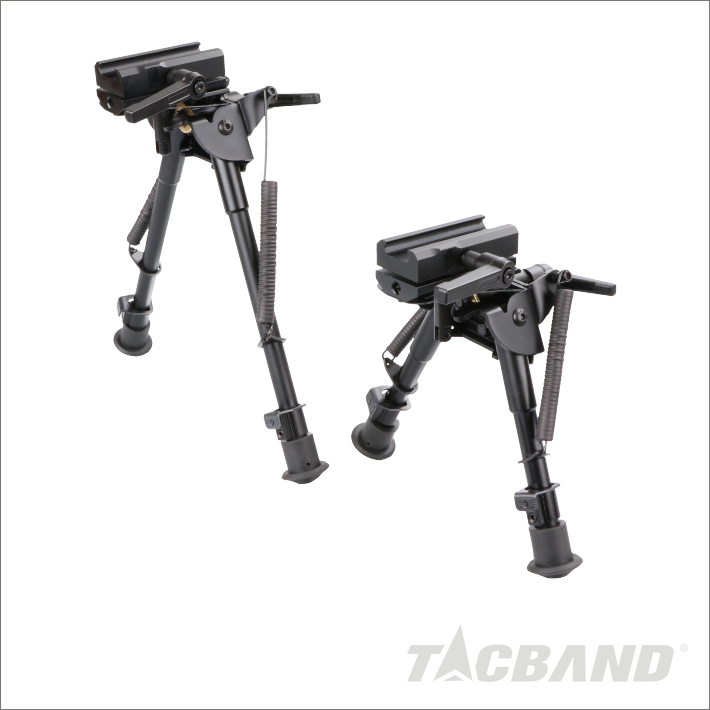 Shooting using this Pivot Bipod will aid you in achieving optimal accuracy with your rifle. It gives you a great shooting stance that is tailored to your needs without sacrificing accuracy.
This bipod's legs are intended to fold or expand depending on the shooting range. It's one of the greatest bipods for shooting competitions since it boosts your confidence and improves your accuracy.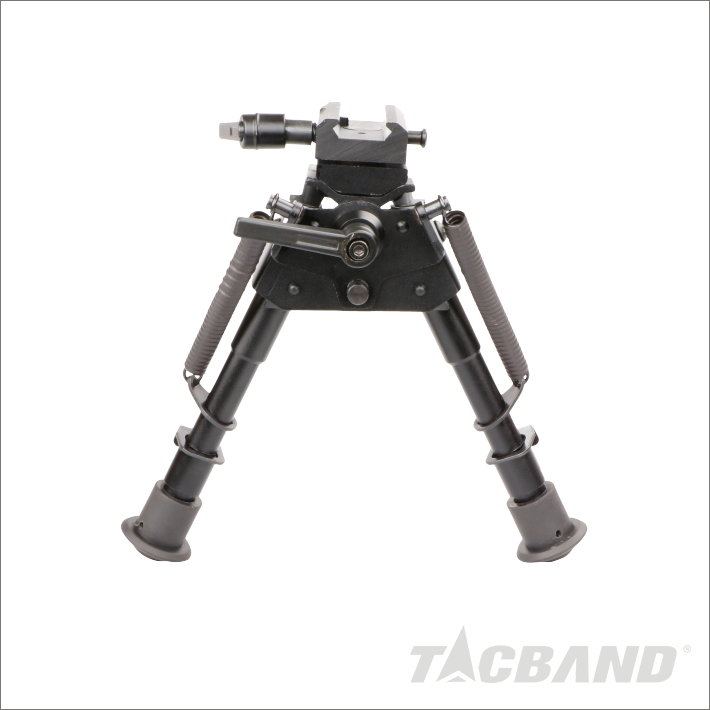 It's a budget-friendly bipod with a variety of useful features that help you maintain a solid stance on rough terrain.
It is made of soft aluminum to offer long-lasting durability and reliable performance on the field. Because of the soft aluminum substance, it is lightweight and convenient.
Furthermore, you may simply carry this bipod with your rifle for extended periods of time while hunting. The Pivot bipod is an excellent choice for a variety of uses.
The sling swivel stud can be simply placed on various rifles for permanent installation. With variable height extensions, it guarantees a steady shooting stance on any surface.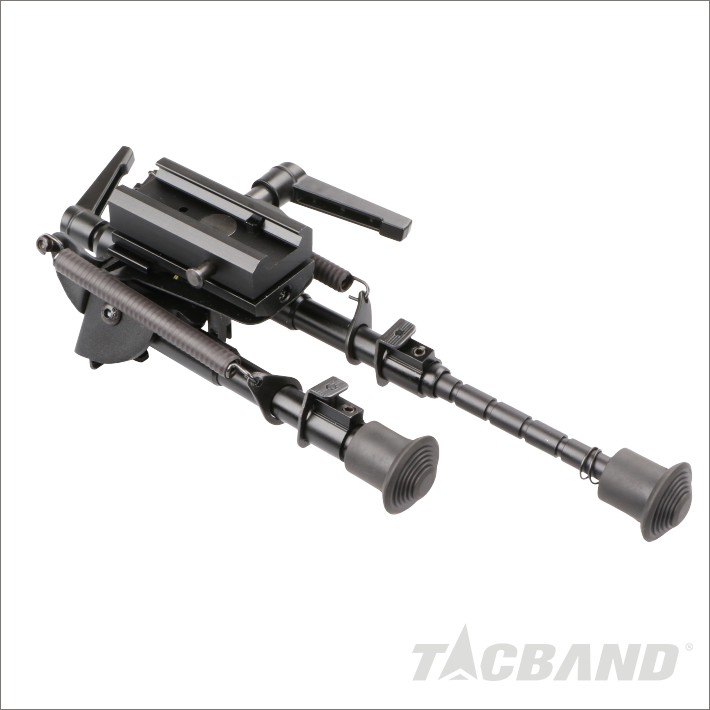 This bipod's height extension ranges from 6 to 9 inches, giving you a variety of shooting positions. To improve your shooting range, tilt it up to 180 degrees.
The legs of these have soft rubber on them, which gives a good grip on both flat and rugged surfaces. By simply pressing the button, you can easily fold the legs of this bipod for easy transition and quick operations.
This bipod's narrow legs, lightweight design, and ease of deployment make it ideal for field shooting.
It's the one that boosts your confidence and allows you to hit accurate long-range shots without feeling pressured or exhausted. With its outstanding qualities, this Pivot Bipod is regarded as the best hunting bipod by many professional hunters.
BPB Series| Heavy Duty Pivot Shooting Bipod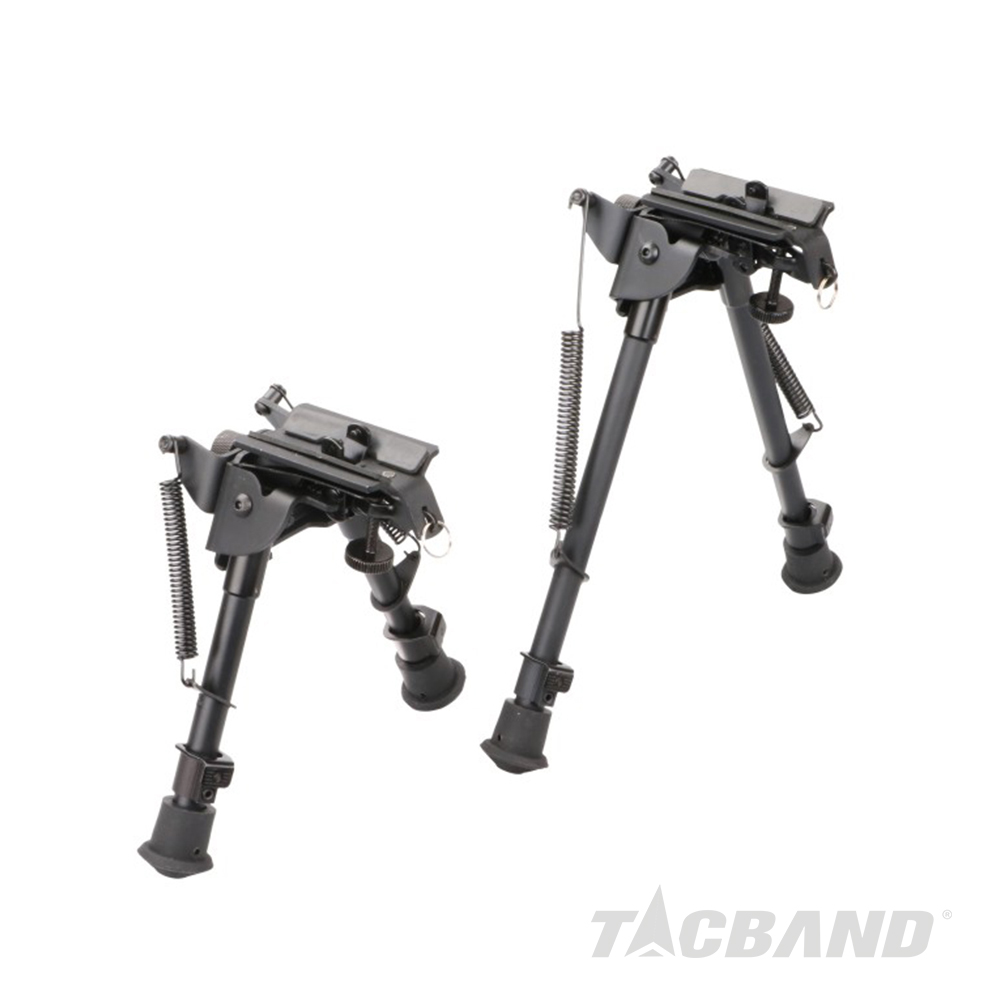 If you're seeking the best bipod for a variety of uses, this Heavy Duty Bipod is one of the best options available. It has a lot of features that will help you enhance your hunting and shooting skills on the field.
This bipod's attractive attributes make it an excellent choice for a variety of hunters.
It can spin and tilt 360 degrees, allowing you to customize the location and angle of the bipod to suit your needs.
This bipod allows shooters to alter their position while shooting without lifting or moving their firearm.
Two tension adjustment screws are included, allowing you to make changes according to your shooting needs.
This bipod's fluted type leg is specifically designed to save weight without sacrificing quality. Using the push button, you can modify the leg in up to 5 different positions to suit your preferences.
This bipod is made of robust aluminum to provide long-term durability and allows you to use it in any situation.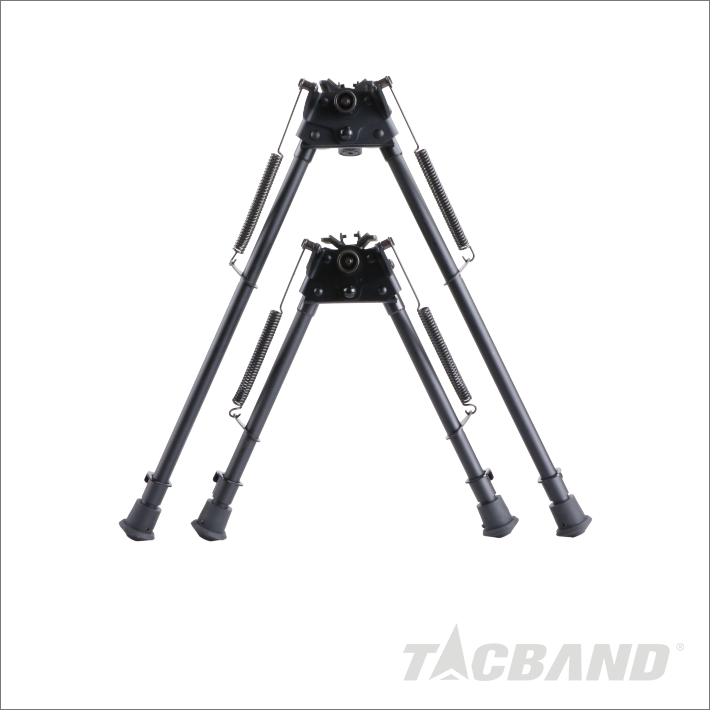 It can work in all kinds of hard environments for a long time without losing its reliability. This bipod maintains a solid shooting position regardless of the firing surface.
It has a dual mounting system that includes a Picatinny rail and a Swivel stud for a secure installation that won't let the rifle down in any situation.
The rubber coating on the legs of this bipod strengthens the grip between the legs and the surface, ensuring a secure shooting stance. This bipod is preferred by many expert hunters and shooters due to its great flexibility in shifting the position when shooting.

If you are also looking for other types of support for practicing your shooting skills, check out our Tacband shooting rest as well.